Since we've been back to school this year, I've spent a considerable amount of time assessing our collection and planning for improvements this school year. At the end of last year, I ran some reports and compiled some data that kind of surprised me. I would never say that using and leveraging data is a strength of mine; I work more in terms of if things "feel right." We all know that administrators speak and listen in terms of data — and mine is no exception.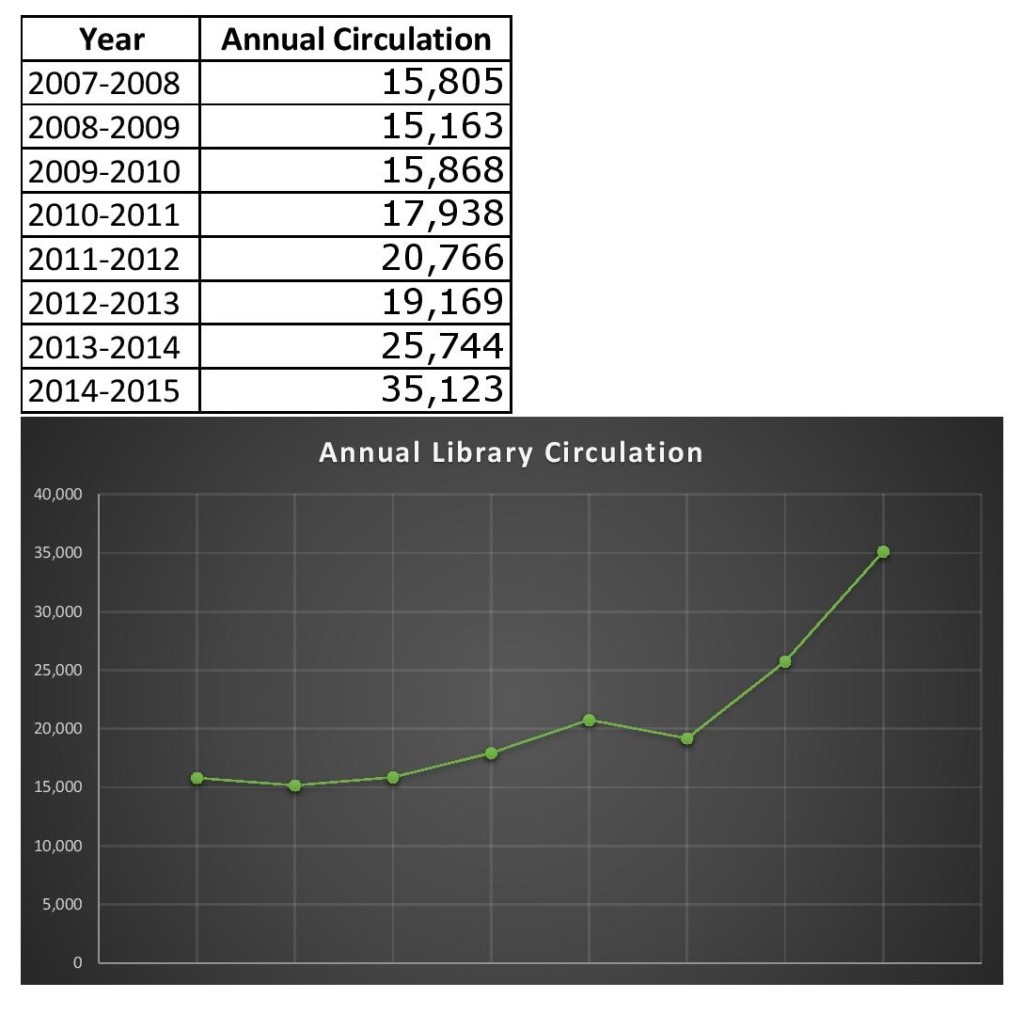 When I looked at annual circulation reports at the end of last year, it was obvious that our circulation has risen dramatically over the last several years. The year with the "dip" was the year of our move from one campus to another, so that was a year of major transition and I understand that trend in the data fully. I attribute a great deal of our circulation increase to both genrefication and implementing our self check-out procedure.
Right before our move, I finished the process of ditching Dewey. That process included EXTENSIVE weeding of our collection. Since then, I really hadn't done much weeding. When books were returned at the end of last year, I noticed that our collection was starting to look a little sad. These books are circulation often and being read by many students. After the first rounds of library visits and book check-out this year, the shelves were just looking sad. Our students are readers, as evidenced by our circulation numbers. I also knew that quite a few of the books left on the shelves hadn't moved since we did back in 2012. Once again, it was time to weed.
I let my principal know that our collection would be needing some funding to help bring it up to a higher standard. He knows that circulation is up — he's seen the data shown above — but he wanted a more formal assessment of our collection and a plan for moving forward.
First I weeded. And weeded. And weeded. Nonfiction — easy. Fiction — a little more painful and personal. If a book hadn't circulated in over three years (unless I knew it had potential tie in to curriculum, special interest, etc.), was in poor condition, or had otherwise outdated information, it was out. I weeded just over 1,000 books, bringing our total collection copy count to 8,614 after weeding. Our collection is very small compared to our student population (just at 1,000 students), but I don't see the point in having books that aren't being read.
After the weeding was complete, I started to look at my numbers. I uploaded our collection info in Mackin for collection analysis. Since we don't use Dewey, this gets a little iffy and the "recommended" numbers don't necessarily match up to my categories. I took that analysis and made the "recommended" column to the best of my ability. The other columns show what we have — copy count for each category, percent of circulation, circulation numbers, and the that category makes up of total circulations. I was able to gather this information from a Collection Circulation Report (Summary Only) and a Collection Statistics Summary Report in Destiny.
Then, I looked more closely at the sections that had a higher percent of circulation than the percent it made up of the collection. These are the sections that would be the main focus for new purchases. I looked at the average of what I usually spend on nonfiction and fiction books when ordering. I also based our need on having 10 books per student — which would bring our collection to 10,000. These numbers aren't exact, but an estimate so I could have conversation with my principal about finding funds to help us improve our collection. 
My principal was impressed with the data (speaking his language makes a difference) and we are working on finding funds to help us fill the gaps in our collection. I've been working on lists, building one for each category so I can look more closely at what is being spent on the different genre sections. I'm excited about the potential to grow and expand our collection this year!
Also, through the process of weeding and assessing the collections, I did a little re-arranging of genre category locations in the library. I moved some books to different genres. I reorganized some of the nonfiction sections and the graphic novels. And I finally decided to make a permanent Humor genre in fiction and pulled books from a number of categories to build it.
It's been a busy start to the year, but a good one!