Our students and teachers need to be reminded of our library resources, along with the fact that we are just HERE for them pretty regularly. Especially at this time of the school year, when things seem to start spiraling to the end of year chaos, it's important to reach out with gentle reminders. I recently shared this fun graphic I created in Canva to remind students and faculty of some of the tools available to them in the library.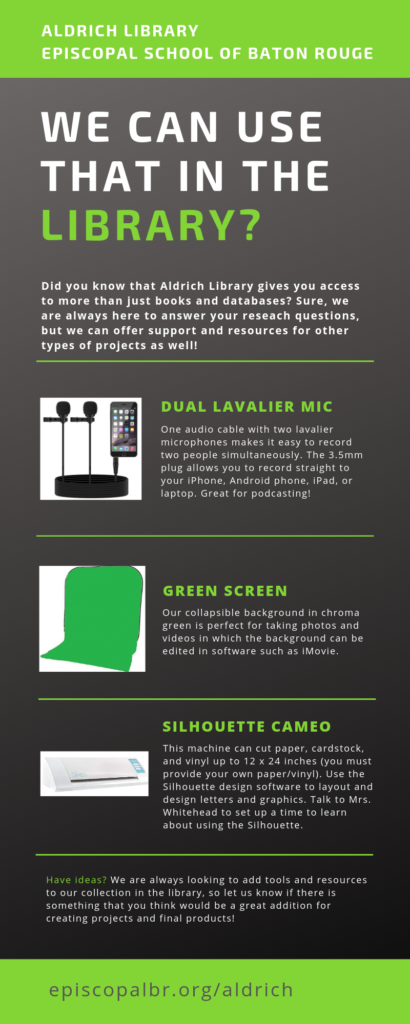 I wanted to create a simple graphic to showcase some of our newer and/or underused library resources without overwhelming them with too much info.
Many of my teachers and students are into podcasting, and it is frequently an option for our students when creating a product for an assignment. We have a super fancy podcasting set up in the library (that is honestly beyond my abilities and understanding), but I purchased these simple dual lavalier mics so students can plug into their own devices to record quickly and easily. For $10, purchasing these was a no-brainer, and they've already been used a ton.
I also recently purchased a collapsible green screen in hopes that I can get more students interested in recording and editing videos. We've had another (much more cumbersome) green screen tucked away somewhere on campus, but I'm hoping that this very portible option will get more use.
We've had our Silhouette Cameo for a while, but it's still one of my favorite tools. I've used it to put up wall quotes in our library (see blog posts here, here, here, and here). I have several teachers who are interested in learning how to use this resource, and I can't wait to teach them to use this awesome machine!
Sure, these resources are great and will get more use since the reminder. The best thing, though, was that I didn't JUST get responses about these tools and resouces. Sending out the reminder to my students and faculty reminded them that I am here for them all the time. I also had more requests come in that week for help in using or locating other library resources. Talk about a major win! I think sending out these kind of "reminders" once a month, or at least once a quarter, is definitely on my to-do list for next school year.